Some of Australia and New Zealand's largest airlines, shopping centre property managers and universities trust us to provide defibrillators for facilities owned and managed by their organisations.
Solutions for public access areas
We deliver
Standalone defibrillators
Monitoring
Full management
Cabinets and signage
24/7 access in all weather environments
Our range of AED cabinets and totems allow us to safely and securely locate in parks and recreational areas. Your existing AED can be fitted into our cabinets and relocated to allow your community access 24/7 whilst connected to local community responders.
Defibrillators suitable for any user
Our defibrillators deliver the latest technology including voice prompts to guide untrained bystanders to offer assistance when required.
All our devices also automatically check that patients are suffering a heart attack before activating, removing any risk of shocks being administered in error.
Solutions for your existing defibrillators
Whether or not your defibrillators were supplied by us, we can work with you to maximise your readiness.
Our monitored solutions can be fitted to any defibrillator to deliver ROI through cost and operational efficiencies, as well as reducing the potential legal risk of non-operational equipment.
Let us take care of your defibrillators
We specialise in the end to end management of defibrillator fleets for organisations with multi-unit and multi-site environments.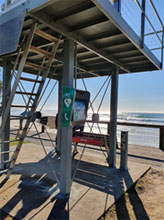 Our customers with public access areas often choose these products